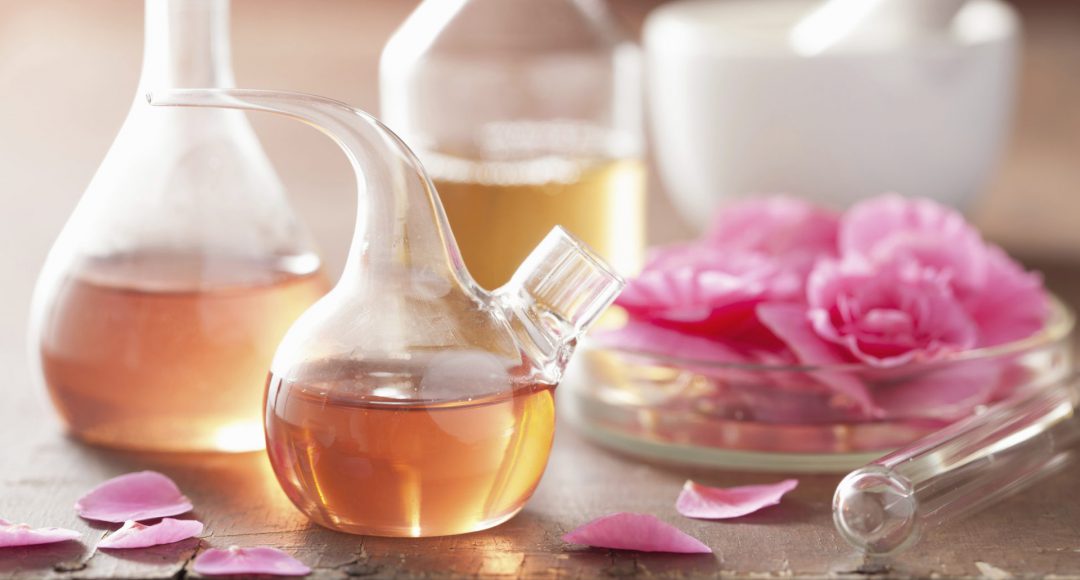 I know that summer is coming to an end. Colder days, more clouds and greyness are about to come. I know that the fall and winter that follows are beautiful but… Don't you sometimes miss summer on an autumn, cloudy day? I have a mini therapy for you – the aroma of flowers, fresh citruses and a delicate scent of oils will let you feel like on a hot summer day at least for a moment. Moreover, thanks to the mixture, skin gets smooth, illuminated and velvet-like. This cosmetic is suitable not just for your body – use it for damp hair ends immediately after washing or (in case of strongly dehydrated hair) rub it a few times a day in dry strands. How to make this fragrant body oil?
Herbal & Rose Hair & Body Oil – why I recommend it?
Just a few words of explanation: why can't I use a pure, natural oil? Doesn't it give equally good skin care? Yes, it does. However, a few rose petals, some lemon grass and essential oil will both give you more intensive care (all ingredients complement each other) and lift your mood: it looks and smells better than anything you've ever held in your hands. This oil also makes a brilliant gift for a friend/ sister/ mother-in-law (?). I guarantee that your skin will smell beautifully, freshly and sensually for long hours. Interested? Get round to it!
DIY: herbal & rose body oil – recipe
It's perfect if you have a clear, glass, atomizer bottle (make use of an ordinary plastic atomizer e.g. soap bottle). The thing is you can see the content clearly as dried flowers and lemon grass settle at the bottom and look stunning, making an impressive composition. All in all, prepare:
an atomizer bottle (mine is quite small, around 50 ml),
50 ml of Macadamia Oil (I love this oil for excellent absorption but feel free to choose any other oil e.g. Apricot Oil, Rose Oil, Grapeseed Oil, Argan Oil, Linseed Oil, Sweet Almond Oil, etc. tbh, the list is endless). Obviously, the oil must be unrefined, natural and cold pressed.
10 drops of geranium oil – I chose it for the mind-blowing aroma but if you prefer rose scent – rose essential oil will be ideal as well. Generally, experiment and add various essential oils you like. To me, geranium is the most… summer-like 🙂
5 drops of bergamot oil – a beautiful, refreshing fragrance as well; I use it and citrus oil (orange or grapefruit oil) by turns.
2 teaspoons of dried rose petals, to be more precise – rosebuds.
2 teaspoons of dried lemon grass (it puffs up in a mix of oils, looks amazing, smells even better).
Procedure
(It's a real piece of cake: put rosebuds in the bottle, add lemon grass, enrich with essential oils and a natural carrier oil.
The longer the flowers and grass are macerated in the natural oil, the stronger the aroma, therefore: enjoy a new scent which gets more and more beautiful week by week 🙂
Herbal & rose hair & body oil – benefits
an ideal hair conditioner (pre and post washing),
replaces serum for damaged hair ends,
a game-changing bath oil,
suitable for a massage,
an excellent body lotion,
feel free to use it for hand and foot care,
cut out as a shave cream,
rub it in nails.
What do you make of the product?
I can't stop using the oil and my friends are asking me about it 🙂 Let me know if you like it and what's more important: how a homemade herbal and rose oil works for you. Take care!