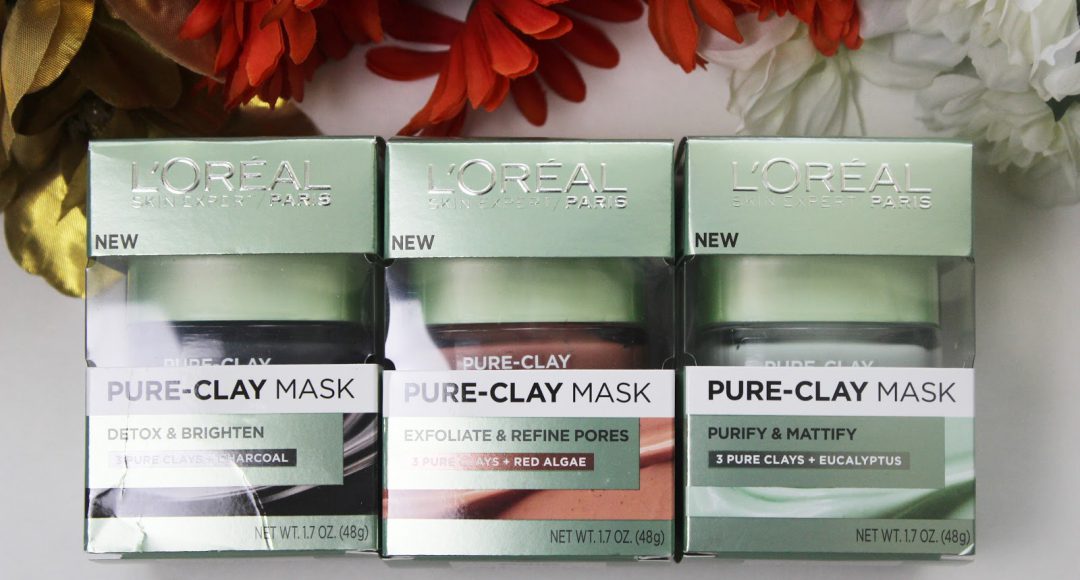 Hello!
There's a real craze for facial clays. They come in different colours, have different properties and purpose. L'Oreal Paris Skin Expert Pure Clay Masks are my favourites. The brand offers four types of clays. Which one's my winner? Read on!
What clays does L'Oreal Paris offer?
Skin Expert consists of four masks for different skin types. Each one contains same three clays: Kaolin, Montmorillonite and Ghassoul. They come in small, clear jars with green tops. One packaging is enough for around ten applications. L'Oreal Paris Skin Expert Masks have bigger equivalents – three gels: black and detoxifying, green and purifying, red and exfoliating.
How do the clays work?
Their main task is removing sebum, makeup leftovers, dead cells and other impurities that settle on the skin throughout the day. Moreover, these mineral ingredients make sure the skin stays in shape and that's the task of the clays. Kaolin precisely removes all of the impurities and absorbs an excess of sebum. Montmorillonite helps soothe inflammation and heal the blemishes. Ghassoul adds a healthy shine to the skin and makes imperfections less visible.
What are the effects of using L'Oreal Paris Skin Expert Masks?
A blue facial mask is L'Oreal Paris new arrival. Apart from the three clays I've mentioned, it includes Algae Extract which cleans the pores and eliminates blackheads, not making the skin dry. The black mask purifies and brightens. It features Active Charcoal that has detoxifying properties, leaving the skin clean and radiant. The green mask cleans and mattifies the skin. Eucalyptus Extract, included in the product, additionally moisturizes and nourishes the skin. The last mask – red one – has exfoliating and smoothing properties; it contains the three clays and Red Algae Extract.
How to use L'Oreal Paris Skin Expert Face Masks?
All of the masks have a creamy consistency so the application is a child's play. And the scent… L'Oreal Paris Masks have an amazing fragrance. You apply the masks to clean skin of the face, neck and chest. A thin layer of the product is enough to get rid of sebum and dead skin cells. You let the mask sit in for several minutes and wash it off with tepid water.
Have you ever tried L'Oreal Paris Skin Expert Masks, girls?