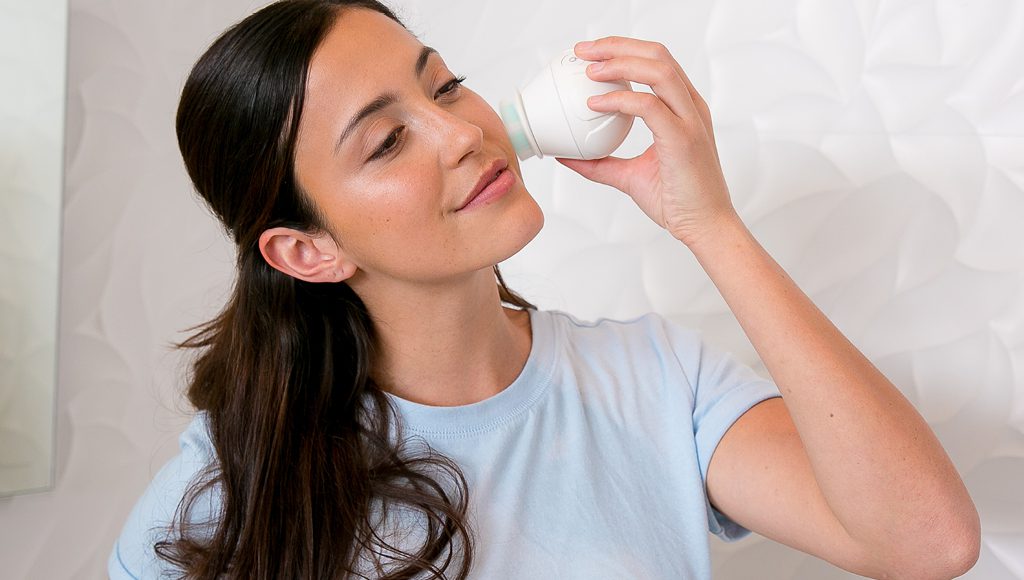 Oftentimes, after washing my face, I still don't feel fresh enough. It seems more like I have only washed down the outer layer of dirt. Luckily, my impressions have changed once I started using a facial cleansing brush. I must admit, it was the best birthday gift I ever got!
Why is face cleaning so important? This is a good question for starters. Often, we do not realize the consequences of, for example, sleeping in makeup or sloppy face washing.
The effects of lack of thorough skin cleansing:
chronic acne;
irritation and inflammation;
redness;
discoloration;
faster skin aging;
dullness and dryness of the complexion.
I do not want to give you lessons, but I encourage you to consciously take care of your complexion for your own benefits. Wrinkles will not appear as soon provided that we give the skin freedom and allow it to regenerate during sleep. That's why it's so important to clean your complexion. Do you want to know how to do it well to avoid unpleasant skin problems in the future?
Facial skin cleansing – principles 
There are many ways of face cleansing to choose from. I have tested quite a few of them myself.
There was a time when I was washing my face with ordinary soap but it made my skin really dry. I did not use water at all and use micellar liquid or oils (so-called OCM, ie washing my face with oils). Then I returned to the standard face wash gel, because my skin started to get greasy. Until today I do not know if it's OCM's fault, or whether some other factors were to blame for.
Each time I was not completely satisfied with the effects that facial cleansing gave me. Reason? I did not follow the basic rules:
Choose only cosmetics with a natural composition and mild effect.
Adapt the type of product and composition to your skin needs and type.
Wash your face not only in the evening, but also always after waking up.
Keep washing your makeup off until the cotton pad is completely clean.
Never forget to clean your face before bedtime.
Always use a toner after washing, which will balance the pH of the skin and relax it.
Always use a moisturizing cream, because the skin dries up during washing.
However, there is something that has changed my view of difficult, tedious and time-consuming facial cleansing. It made everything simpler and more pleasant. What's more, I finally felt what a well-cleansed face means. All thanks to the face brush!
Facial cleansing brush – a true beauty hit or a needless gadget?
They gain more and more popularity because they facilitate manual skin cleansing. They are cheap, you can buy them at any drugstore and adjust the size, shape or type to your needs. My first face brush was round and fit perfectly in the hand. Today I use the electric version, but I also tried out the sonic brush.
In my opinion, face brushes have many advantages:
allow for the most thorough cleansing of the complexion;
definitely accelerate face washing;
prepare the skin for beauty care cosmetics, speeding up their absorption;
improve skin microcirculation, and therefore skin health;
support exfoliation of the dead skin cells and smooth.
The most important advantage is the fact that washing your face with a brush is much more effective than using just your hands. You will notice the difference after the first wash. As long as you decide to buy your first brush.
Is the tool suitable for everyone?
Unfortunately, a facial cleansing brush will not work for everyone. As always, there are some exceptions. It is not recommended for people with extremely sensitive skin, because it can cause irritation and exacerbate the problem. The situation is similar for those who struggle with capillary, atopic skin, eczema, allergies, seborrheic inflammation, and any injuries. Unfortunately, the face brush can aggravate the problems. In such cases, I recommend a lot of milder ways of cleansing the skin (eg with a muslin cloth) combined with proper care and (sometimes) medical treatment.
And finally … my favorite face brushes:
Clarisonic Mia 2 sonic brush – waterproof, so you do not have to worry about washing your face, for example in the shower; supports cleaning with sound waves; a big plus for an additional travel case attached.
Philips VisaPure face brush – also waterproof, personally, I think it's the basis; with two speeds and a special 1-minute cleaning program.
Remington Reveal cleaning brush – has an interesting design and a moving head that spins and vibrates when washing your face; it is also waterproof and has a very durable battery.