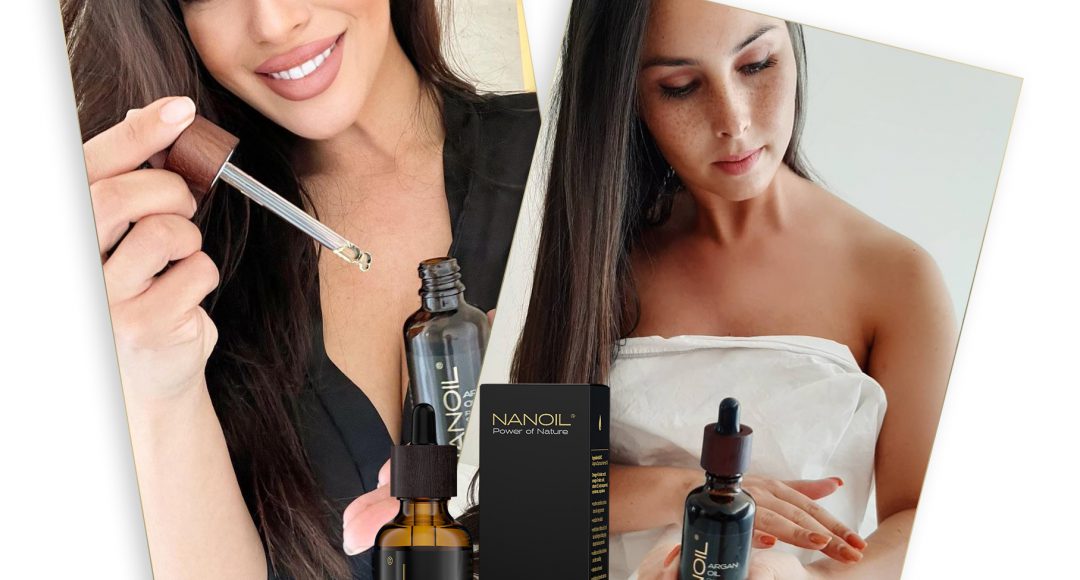 Hi there, my darlings! 🙂
Natural skin care is trendy and effective. More and more people are reaching for organic natural oils. But how to find the best one, when the cosmetic market is flooded with different oil blends? I rely on unrefined and cold-pressed oils, so I can be sure they retain all the most important properties. Just like Nanoil Argan Oil, called the liquid gold of Morocco for good reason. Get to know it better!
---
Drugstore cosmetics have never worked well for me. Irritating alcohol, silicones and artificial dyes made my skin clogged and full of imperfections. It's a whole different story when I stick to my natural allies like Nanoil Argan Oil, which deserves special recognition as it's from my favorite brand that has never let me down. The brand offers organic cosmetics and natural formulas, and their high effectiveness and quality are confirmed by Ecocert certification. Their plant-based oils are recognized worldwide.
Natural and vegan argan oil
I'm a big fan of zero-waste skin care. Nanoil Argan Oil comes from a trusted source, is not tested on animals, has a completely safe, hypoallergenic composition, and the elegant bottle packaging is recyclable. The oil is extracted from Argan trees, it's cold-pressed and unrefined to ensure the antioxidants, vitamins, minerals and unsaturated fatty acids it contains retain all their properties.
The oil works great for hair oil treatment – after just a few applications, my hair regenerated significantly. It contains over 100 substances that provide it with powerful antioxidant properties. What does it mean? Antioxidants neutralise free radicals that cause premature skin ageing and loss of firmness and radiance. The skin is exposed to them every day, which is why it is so important to include these ingredients in our daily skin care.
This multi-tasking oil helped me combat cellulite and stretch marks. Just massage it into your skin every day for a few minutes and you will quickly notice the difference – firm and youthful skin for longer! The product is an irreplaceable natural brow and lash conditioner that regenerates and promotes hair growth. It is also suitable for strengthening brittle and weak nails, which bothered me for a long time. It nourished them after the gel manicure and finally, they are stong and resilient.
Nanoil Argan Oil is worth buying as it has so many uses that will save you a lot of money. Since one product replaced several other cosmetics, my wallet has breathed a sigh of relief. This versatile multi-tasker works:
in the care of weak hair,
as a serum for ends,
for regenerating brittle nails,
as an addition to creams, lotions, masks or conditioners,
to moisturise any type of skin and hair,
to combat cellulite and stretch marks,
as a nourishing bath.
It works as a regenerative serum that prevents hair and nails from splitting. By washing your face with this amazing oil you can combat the annoying blackheads and whiteheads. No other natural oil has worked for me in so many ways. Its possibilities are endless, so it's totally up to you which uses you'd like to try out 🙂
Wyświetl ten post na Instagramie
Create a spa day in your home and nourish your hair, skin, nails, brows and lashes. The product is non-irritating, non-allergenic, and can be used sauté or mixed with other oils. Create your DIY cosmetics – add a few drops to your favourite cream or body lotion to create a super moisturising product for the whole body.
I recommend Nanoil Argan Oil to every eco-friendly skin care lover. Taking care of the environment is very important and my favorite brand never forgets it. Go for Nanoil Argan Oil, free of any unnecessary additives. It's perfect for everyone and you can share it with your friends, your boyfriend or whoever you like. Learn more about the product and effect: www.nanoil.us.
Kisses! <3
---