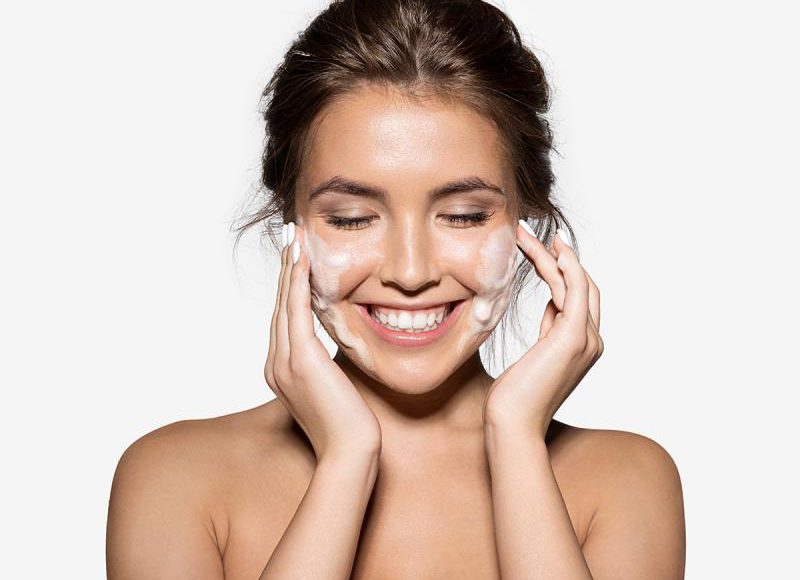 Do you use a double cleansing method?
Cleansing the face is the key element of daily skin care regimen. Without doing it right, applying other skin care products doesn't make much sense because they won't be fully absorbed by the skin. Plus, not clearing the complexion fully leads to comedones and irritations. Keep reading to see what double cleansing involves, which products I use, and if it works well for my skin.
What does the double cleansing method consist of?
You follow two steps to deeply clean the complexion. Ideally, it should be done in the evening because it isn't necessary in the morning. Of course you can do it after getting up, there are no contraindications. I simply have no time during the morning rush. You can clear the face of all dirt, make-up and oil. Using mild products with skin-friendly ingredients is essential for both stages.
Double Cleansing Method:
Stage 1: Remove your make-up
Stage 2: Wash the face
Double Cleansing – Stage 1 – Make-Up Removal
The first stage involves removing make-up products and it can be done with micellar water, other remover or face oil. I like to use oils the most. I didn't think they would work out well but I was wrong! Oils are perfect for taking make-up off and they don't leave a greasy feel on the face. Plus, oils are gentle on the skin and don't require rubbing so you won't irritate the complexion for sure. Removing make-up with oils is a very nice face massage. My favorite products have great components, smell lovely and are really budget-friendly. I use them by turns.
My top oils for removing make-up:
Neutrogena Ultra Light Face Cleansing Oil
Cocokind Facial Cleansing Oil
Double Cleansing – Stage 2 – Deep Washing
In this stage we move on to deeply cleansing the face. Use a gel or foam cleanser to get rid of any make-up debris and residue of other impurities. Choose a product designed for your skin type, and make sure it's gentle. You must remember to use a skin toner after cleansing, and follow with serum and cream.
My favorite face washes:
CeraVe Hydrating Facial Cleanser
La Roche-Posay Effaclar Purifying Cleansing Gel
Has double cleansing brought any benefits for my complexion?
I didn't notice any spectacular changes at first but long-term and regular use of this method has really improved my complexion. Break-outs are rare. My face feels smooth and looks well taken care of. I think that both the method and good products take credit for that. I know one thing for sure: I'm not going to give up on double cleansing!
Do you use a double cleansing method? Let me know which products you use for make-up removal and face washing!