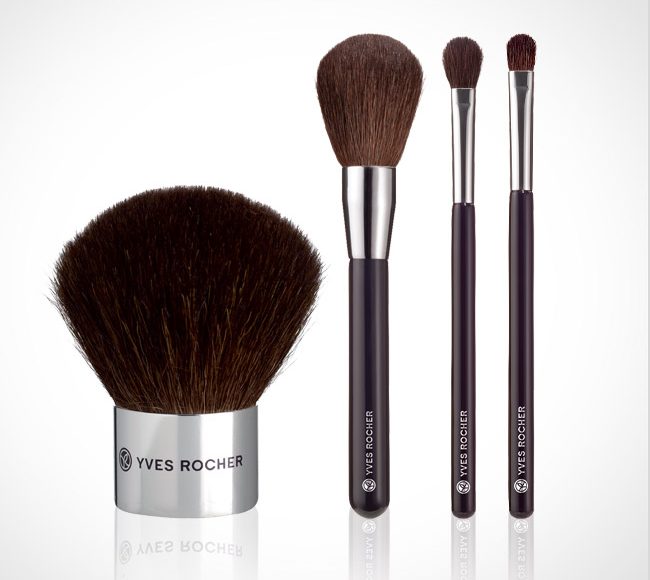 Hello! What's up?
Today I would like to talk a bit about my make-up brushes set. There is quite a lot of it, so sit comfortably and feel the pleasure of reading this entry. I hope you will now understand how many brushes I need for my make-up.
Brushes for face make-up
For general face make-up, I use three brushes. I apply foundation with medium size brush with rounded bristle. This brush is very precise, so I can spread the cosmetic by the nose, around eyes and along the lips. However, for the rest of the face, I use a brush with a fat top. Probably many of you have such applicator in their cosmetic bag. How do I use it? I use a gentle tapping motion to dot foundation onto the skin where needed. When performing make-up, I also use contouring brush. Its bristle is angled, so the application of product on the cheek bones is super easy.
Powder and blusher brushes
My powder brush is big and soft. I chose such a brush so that this step was as quick as possible. The brush has slightly rounded bristle, so you can easily administer powder onto the skin. When it comes to the blusher applicator it has angled bristle. Such shape allows fast contouring. For me, it's just perfect!
Eye make-up brushes
In my set are three brushes intended for eye make-up. The first brush has small round tip. It is the go to brush for blending eye shadows both liquid and loose. The second applicator I use for eyes has two ends: short and long widen to the sides. This is the brush to rub eye shadow in the crease and to combine it with other cosmetics. The last in the set is thin and angled brush. It is intended for lines and to underline lower eyelid. It is truly amazing.
Do you have Yves Rocher brushes as well?