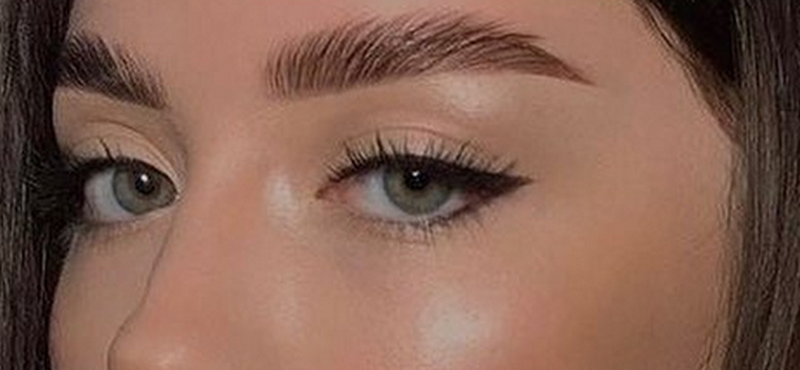 Hi there, dear friends <3
I know how much you like my product rankings and I'm glad you appreciate the cosmetics I recommend. That's why I decided to dedicate today's ranking to the best brow lamination kits. Recently, everyone has been obsessed with a DIY at-home eyebrow lift. I am not surprised at all as it can save a lot of time and money. However, it is really important to choose a good eyebrow lamination kit. Therefore, you should check out my ranking. I hope it will reveal the best kit for at-home eyebrow lamination for yourself! Enjoy!
What is brow lamination anyway?
The effects of eyebrow lamination are similar to perm, as it involves changing the structure of the hairs with special chemical solutions and setting them in a new shape; exactly how you want them. It is very fashionable nowadays to style the eyebrows upward for the trendiest brushed-up look. I must admit this technique delivers a very elegant effect!
Where to buy a recommended brow lamination kit?
Before you start typing into your browser "best brow lamination kit in Douglas, Sephora, Walmart" or any other beauty store – wait, because my ranking also reveals where you can buy each product.
What makes a good brow lamination kit?
A good brow lift kit for home use must be safe, first of all, and the instructions should be simple and clear. Of course, the solutions must also feature the highest quality, and the price should be above your budget. Another important factor is to find out how long the lamination effect lasts on the eyebrows, and how long the DIY brow lift treatment takes. I have considered all these factors in my ranking of the best laminating products.
My recommended brow lamination kits – RANKING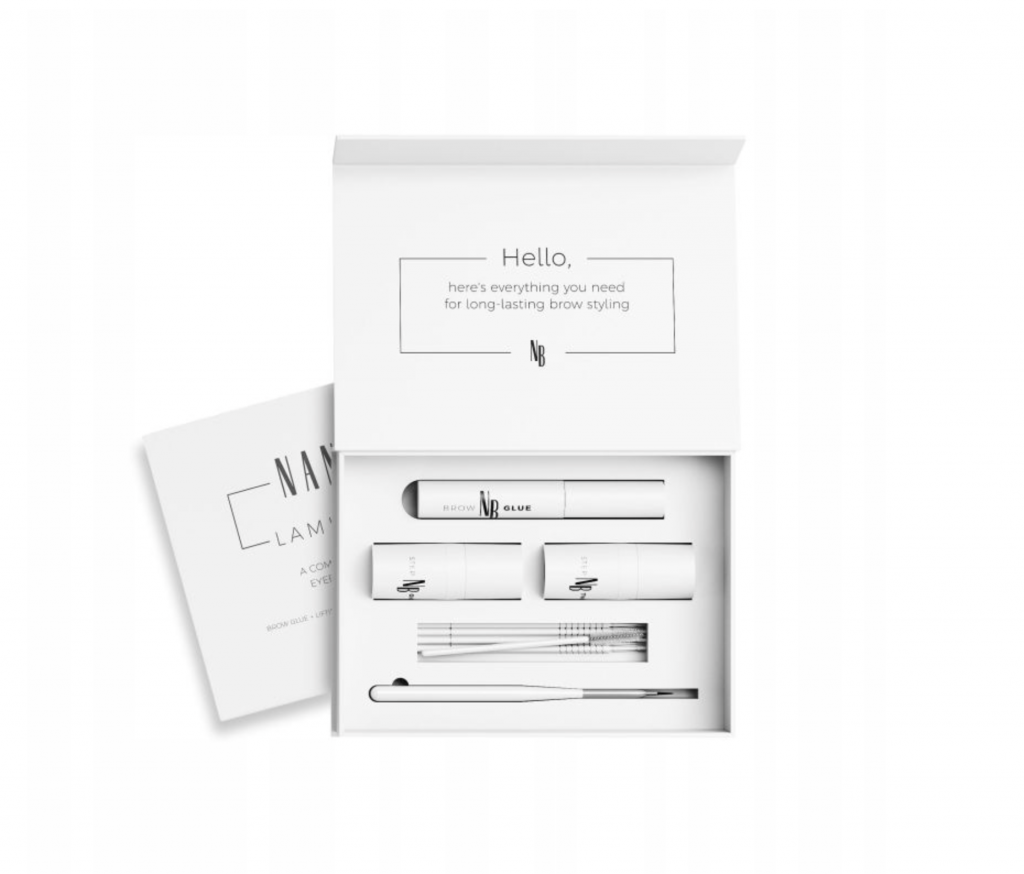 ENOUGH FOR 11 lamination treatments
THE EFFECTS OF LAMINATION LASTED FOR 7 weeks
Best eyebrow lamination kit for home use? In my ranking, Nanobrow Lamination Kit ranked highest. No doubt this is one of the most flawless kits for DIY brow lift you can find on the beauty market. In addition, you must know that this brow lamination kit comes at an affordable price so I think this eyebrow lift kit is for absolutely everyone. What makes it such a great and recommended brow lift kit though? Because it is easy to use and contains only three products to ensure you can perform the lamination treatment effortlessly and the whole process takes you a maximum of 20 minutes which is sensational in my opinion! In addition, the effects of eyebrow lamination with this kit last for as long as 7 weeks! It's a very elegant kit in general, it's beautifully released, comes with a set of all the necessary accessories needed for the lamination treatment, and does not contain any unnecessary gadgets that would only increase the price of the kit for no reason. The fact that all the bottles are numbered is a bonus: it's truly impossible to get confused during the DIY brow lamination process with Nanobrow Lamination Kit. I can also add that this brow lift kit is very efficient. It allows you to perform up to 11 lamination treatments with it.
NANOBROW LAMINATION KIT – WHERE TO BUY IT?
You can buy the Nanobrow brow lamination kit in many renowned beauty stores, online, and on the official Nanobrow brand website – www.nanobrow.us. That's where I got my kit from 🙂
◾ Refectocil Brow Lamination ◾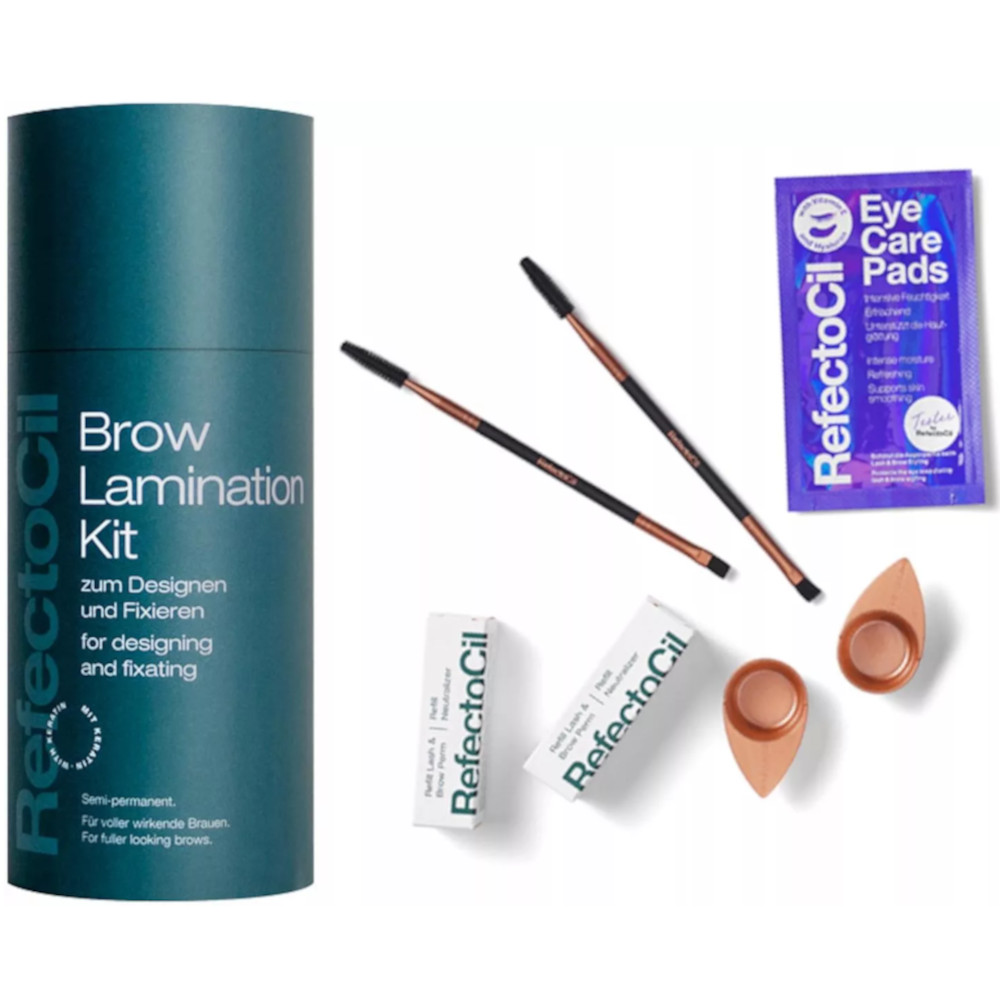 ENOUGH FOR 10 lamination treatments
THE EFFECTS OF LAMINATION LASTED FOR 5 weeks
This kit is actually not strictly for at-home eyebrow lamination, as it is intended for professional use in beauty salons as the manufacturer emphasizes. For this reason, dear readers, it is not exactly user-friendly for the average user, only beginning their adventure with DIY brow lamination. The price of the kit is also a downside. This kit delivered lovely results to my eyebrows and ensures my brows gained volume, but the effect lasted shorter than with the previous kit as it was only 5 weeks. This eyebrow lamination kit is enough for about 10 applications.
REFECTOCIL LAMINATION KIT, WHERE TO BUY IT?
You can easily buy it online, and I also think that many beauty wholesalers should have it on offer.
◾ Sassy Saints Brow Lamination Kit ◾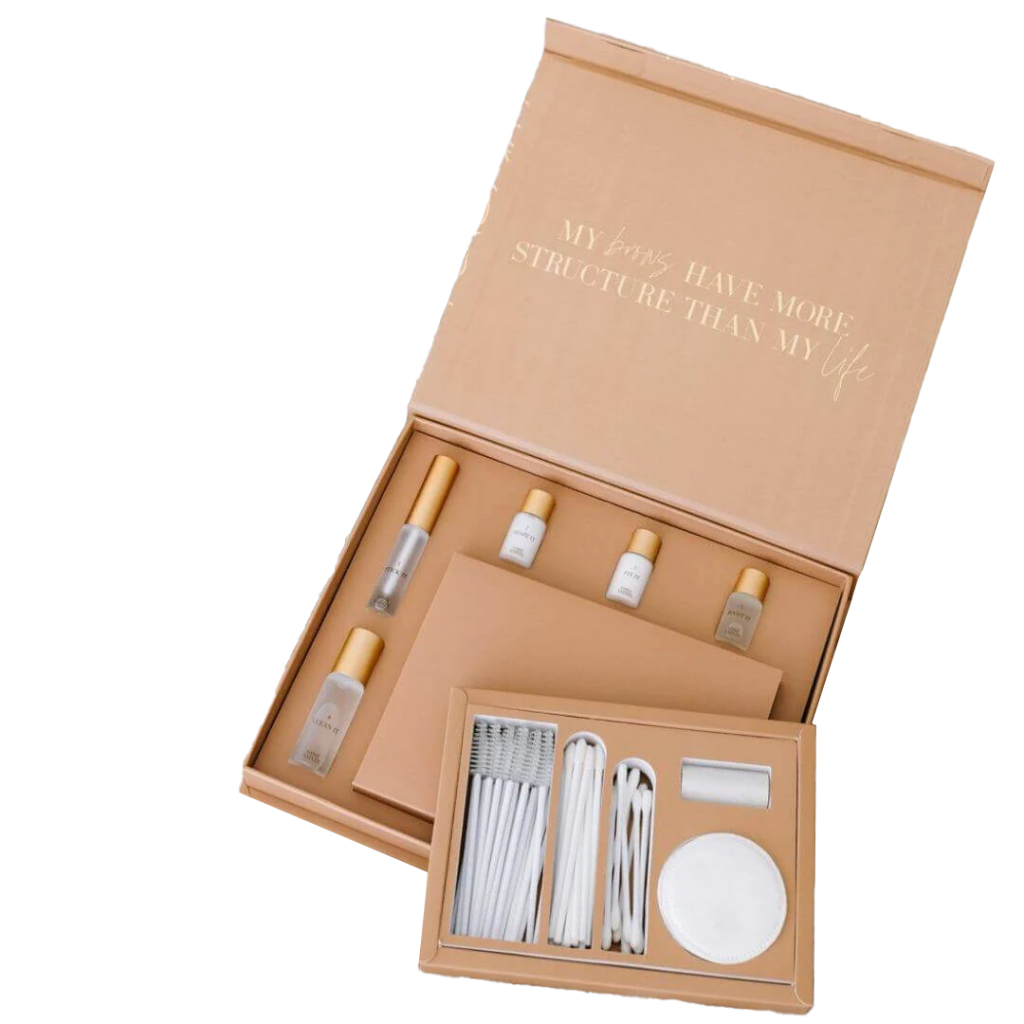 ENOUGH FOR 10 lamination treatments
THE EFFECTS OF LAMINATION LASTED FOR 5 weeks
I am pretty sure that this is a favorite kit among Instagram influencers as the brand has clearly created this kit to be heavily advertised on social media. However, I admit that I was also dazzled by its design because it's a really lovely-looking brow lamination kit that's neat and stylish. It comes in a large and beautiful beige box with gold details. Unfortunately, the execution of this brow lamination kit is not as good though is much worse as the kit comes with so many different bottles. Well, it's easy to get confused using them, although the manufacturer gives us a lengthy manual in a form of a giant leaflet. This kit lasts for about 10 treatments as standard, and the effect lasted 5 weeks on my eyebrows. However, you should also take into account the reviews from girls who claim that this brow lift kit keeps brow hairs in place only for a month. I think it all depends on the condition of the eyebrows. Finally, there's more unpleasant news: this kit really costs a lot. What a pity.
SASSY SAINTS LAMINATION KIT, WHERE TO BUY IT?
Unfortunately, I have not seen this kit in any beauty store so far… I know that the brand has its online store and you can order this kit for DIY brow lamination there. I got mine as a gift.
◾ THUYA EYEBROW LAMINATION KIT ◾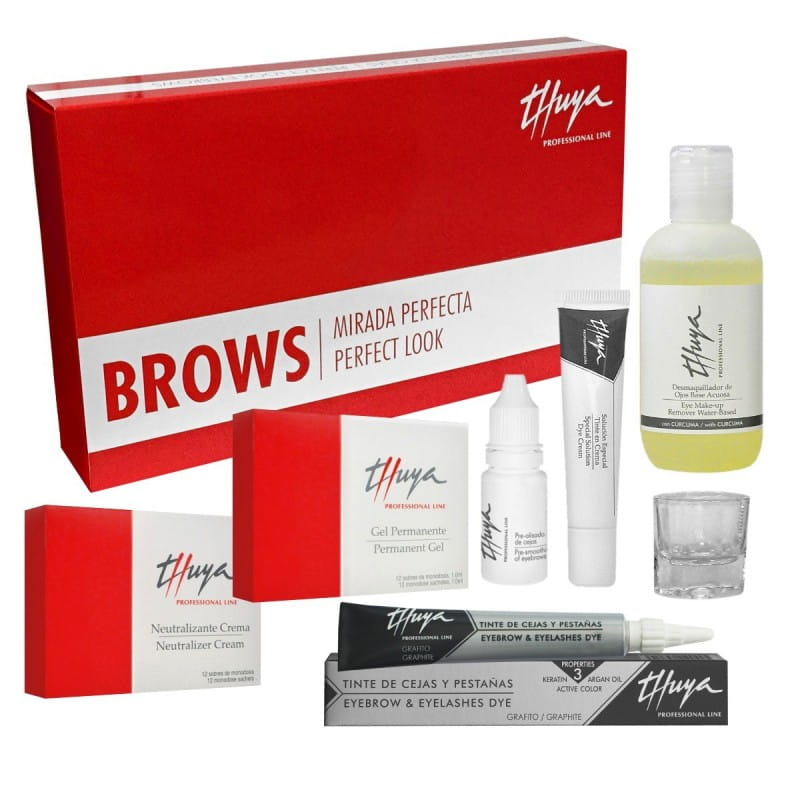 ENOUGH FOR 12 lamination treatments
THE EFFECTS OF LAMINATION LASTED FOR 4 weeks
This is probably one of the most popular and highly recommended brow lamination kits that made it to my ranking. However, I must tell you right away that it is not easy to use. This is a professional eyebrow lift kit, designed for salons, and if you are just getting started with at-home eyebrow lamination, it will not be suitable for you. I say honestly! 😀 The results following the lamination treatment are, of course, very nice, the eyebrows look neat, and the effects last for a month. Lamination with this kit requires a little knowledge of the products and you must be sure how long to keep the products on the eyebrows. If your eyebrows are thin and weak…beware, because a product kept on brow hairs for too long can weaken them even further. It is worth adding that this eyebrow lamination kit comes in rather impractical sachets. Of course, a beauty salon ensures freshness and hygiene of work, but at home, of course, you end up wasting a lot of product.
THUYA LAMINATION KIT, WHERE TO BUY IT?
You can buy this professional brow lamination kit from many beauty wholesalers over the Internet and in many regular drugstores.
◾ Fleeky eyebrow lamination kit ◾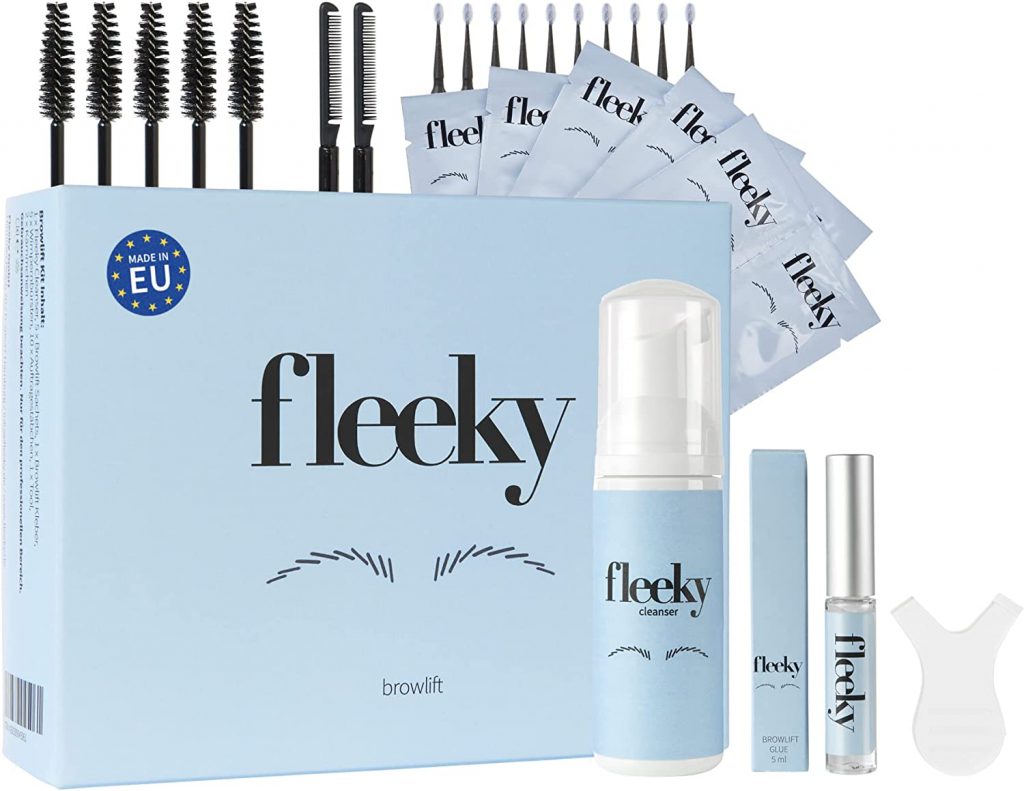 ENOUGH FOR 2 treatments (smaller version); the large is enough for about 5 treatments
THE EFFECTS OF LAMINATION LASTED FOR 5 weeks
This is another quite good kit for brow lamination at home in my ranking. The instructions are not too complicated and I think you can easily master the use of this kit for home use, even if you have never tried eyebrow lamination before. This will be facilitated by the numbers on the bottles. In general, the manufacturer has prepared quite an interesting option with this kit as this lamination kit comes in two different sizes: one is smaller and contains only two sachets of the lamination products and the other is, a larger one with five sachets inside. Besides, one sachet contains a lot of product. In my opinion, far too much for an individual lamination treatment. Well, and of course, in a beauty salon, this product will certainly be used up within 24 hours, because there is sure to be more than one client who comes to get the lamination treatment… However, at home, you will certainly not do another brow lamination within 24 hours, because you would simply damage your eyebrows, and in general, it is pointless. Therefore, after opening the sachet, you simply throw away the rest of the product, wasting the product, unfortunately. If, in addition, we consider the rather high price, well, unfortunately, it is not worth it at all.
FLEEKY LAMINATION KIT, WHERE TO BUY IT?
This eyebrow lamination kit is on offer in Douglas, Sephora, and other beauty stores and you can easily buy it online.
Eyebrow lamination kit at home – is it worth trying?
It's definitely worth the purchase, especially when you consider how much it would cost to get a single professional eyebrow lamination treatment. When you choose a good eyebrow lamination kit for home use, you get about 10 treatments at no extra charge!
Do eyebrow lamination kits at home give the same results as a professional treatment?
Absolutely!!! Thinking that a kit for home use does not provide the same effects as salon treatments is a huge mistake. My ranking and tests of various, most popular brow lift kits only prove that the theory that "professional equals better" is wrong – I tried products created specifically for salon use, as well as those adapted for home use and I was not able to see the difference between them in terms of results. I think my comparison has clearly shown this. 🙂
Trying brow lamination at home – what results to expect?
Using the right lamination products ensures you have the opportunity to style your eyebrows in the desired direction and set them in place for many weeks. Most of today's popular brow trends require the eyebrows to be brushed up. A good quality lamination kit can keep your eyebrows in the desired shape for up to 8 weeks. My eyebrows following the lamination treatment always look fuller, gain volume, and are just perfectly and evenly styled!
Dear readers! Did you choose your favorite brow lamination kit from the options presented in my ranking? Let me know which one! Also, tell me how your DIY brow lamination turned out, I'm extremely curious if you managed and whether everything went smoothly. That's all for today, until the next one! Hugs! <3