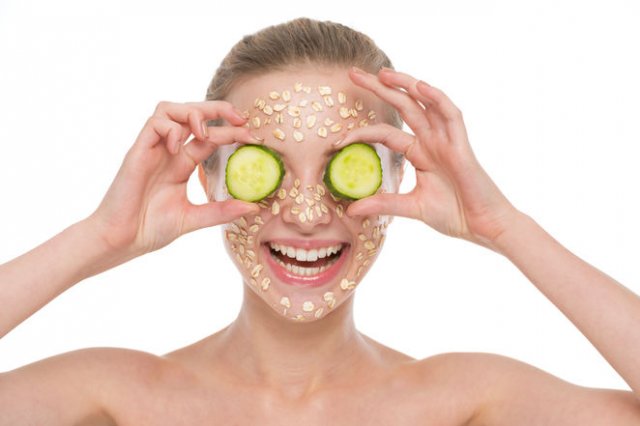 Hello lovelies! 
You often ask me in emails how to deal with combination skin. Today I prepared for you a few recipes for homemade masks that will help you deal with this complexion type.
Combination skin is difficult to take care of because it combines the features of dry skin and oily skin and each of them has different requirements. Oily skin includes the so-called T zone, i.e. chin, nose and forehead. Dry parts are cheeks.
Masks that I recommend will moisturize the skin, but also help to heal blemishes.
Cleansing face mask with oats
You will need:
3 tablespoons oats,
1 teaspoon of natural yoghurt,
1 teaspoon of honey,
1 capsule of activated charcoal.
Pour boiling water over oats to soften. When they cool down and become soft, add yogurt, honey and the contents of one activated charcoal capsule. Mix all the ingredients together and apply to the face for 20 minutes. After this time, rinse with warm water.
This is my favorite mask. Oats moisturize the skin, soothe irritations, but also cleanse. Natural yoghurt strongly moisturizes, so it is perfect for dry patches. Charcoal cleanses well, and honey has antioxidant and antibacterial properties. It soothes inflammation but also works well with dry skin. This is a delicate mask that will not irritate sensitive skin.
Apple face mask 
You will need:
Half an apple,
2 tablespoons of natural yoghurt,
1 teaspoon of honey.
Grate the apple on a grater and mix with yoghurt and honey. Apply the mix to the face and wash after 20 minutes with warm water. The mask will gently brighten the face, and the dry parts will be moisturized and nourished.
Egg face mask 
To prepare this mask, you will only need 1 egg. Separate the white from the yolk. Whip the white and apply to the parts of the face that ten to become oily. When it dries, gently rub the egg yolk. Wash off everything after about 20 minutes. The mask cleanses, nourishes and tightens the skin.
Banana face mask for dry face parts 
You will need:
2 tablespoons of natural yoghurt
1 tablespoon of honey
¼ ripe banana
Mix all ingredients into a paste and apply to the face and neck. Wash after 20 minutes.
Avocado mask for dry face parts 
You will need:
½ avocado
1 thick slice of cucumber
1 tablespoon of natural yoghurt
Blend avocado and cucumber, then add yoghurt and mix well. Apply it to the face and neck and wash with warm water after 10-15 minutes.
I strongly recommend that you try some of these recipes:) Do you know other reliable, worth testing out recipes? Do not forget to share them in the comments! 🙂