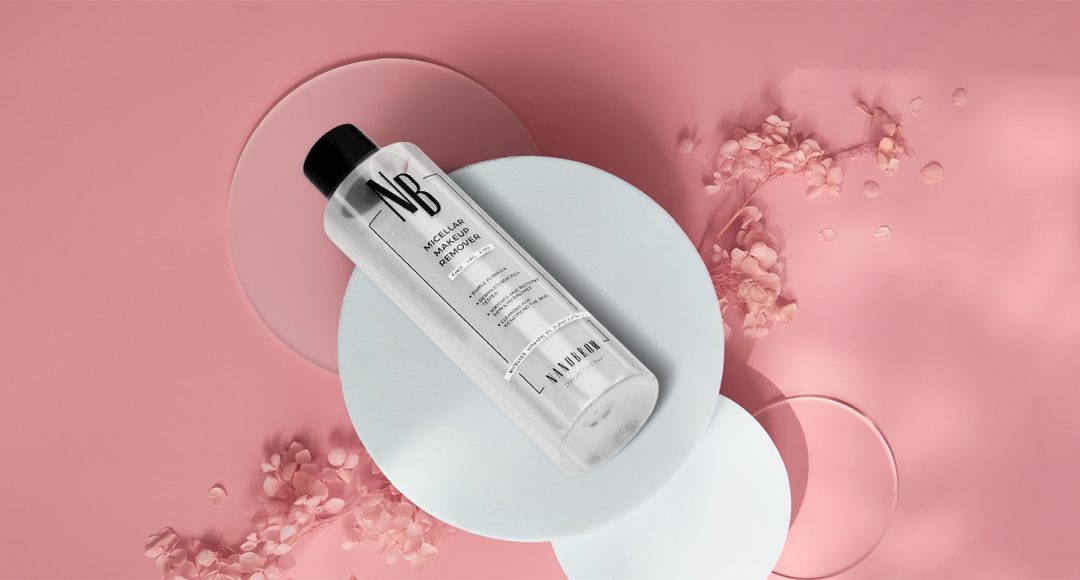 Hey there! 🙂
If, like me, you have sensitive skin, you know how difficult it is to find the right cleansing and care products. However, there is one product that can help you: Nanobrow Micellar Makeup Remover!
Removing makeup with micellar water is very easy, fast and effective – so this is my favorite method of face cleansing. The other day when I was shopping online, I  ordered the new micellar water from Nanobrow, so today I want to write a short review about it. What are my thoughts? Did it work well for my sensitive skin? Keep on reading! 🙂
Nanobrow Micellar Makeup Remover – the first impression
I have naturally sensitive skin with a tendency to redness, so the majority of face cleansing products like face gels or soaps just don't stand the test of time for me. This type of skin requires the use of cosmetics with safe and mild formulas. This is why I always read the compositions of products to make sure if a product doesn't contain any irritating substances that could cause redness. The Nanobrow Micellar Water won me over with its short composition and niacinamide, which is high in the formula. In the product there are also the extracts of aloe vera and pomegranate.
Niacinamide – is a derivative of vitamin B3, which strengthens the protective layer of the skin, tightens pores and regulates sebum production. It works very well for oily skin.
Aloe vera extract – soothes, tones and refreshes the skin, because it is rich in antioxidants, has anti-aging properties and proves itself in the care of sensitive skin.
Pomegranate extract – moisturizes and tones, has astringent properties, protects the skin from the effects of free radicals and is recommended for the care of mature, oily and couperose-prone skin.
Nanobrow micellar water – how does it work for sensitive skin? 
For evening skincare, I use Nanobrow micellar water to remove my makeup. I soak the cotton pad with the makeup remover and gently remove foundation. The product is able to remove even a full-coverage foundation. To remove mascara, I place the cotton pad on the eyelid and leave it on for a few seconds to dissolve the mascara. Nanobrow micellar water is capable of removing even waterproof cosmetics. It does not irritate the eyes, does not cause itching and redness, which often happens with me.
Micelles – effectively remove makeup residue!
Micelles, which are in the product, attract product residues and dirt like a magnet. They deeply clean the skin – without rubbing. Micelles free the skin from even heavy makeup and cause the skin to be fresh and clean. Because they are gentle, micelles products are recommended to people with sensitive and vascular skin.
How does Nanobrow Micellar Makeup Remover work? 
Nanobrow micellar water is a great product for removing makeup and cleansing the skin, which, thanks to its effectiveness, is gaining more and more popularity. How does micellar water work? It's simple – it contains molecules called micelles that have the ability to attract impurities such as sebum, dust and makeup. Thanks to this, the micellar water removes them from the surface of the skin effectively, and at the same time nourishes it without irritating it or leaving a sticky layer. Importantly, Nanobrow micellar water is suitable for all skin types, from oily to sensitive 🙂
Cleanses the skin and frees it from makeup (even waterproof makeup).
Gives more radiance to tired skin
Does not damage the hydrolipidic layer of the skin
Moisturizes and soothes, does not leave an oily layer
Tones, soothes and refreshes
Conclusion… 
Nanobrow micellar water has worked really well for me, even though my skin is sensitive. It removes makeup in a flash and cleanses the face without rubbing. The product has cleansing, toning and moisturizing properties. In my opinion, it's a must-have in case of sensitive skin!
Micellar water – do you like to use it? I have to honestly admit that it is my favorite method of removing makeup!
You can find Nanobrow Micellar Mekup Remover here → nanobrow.us