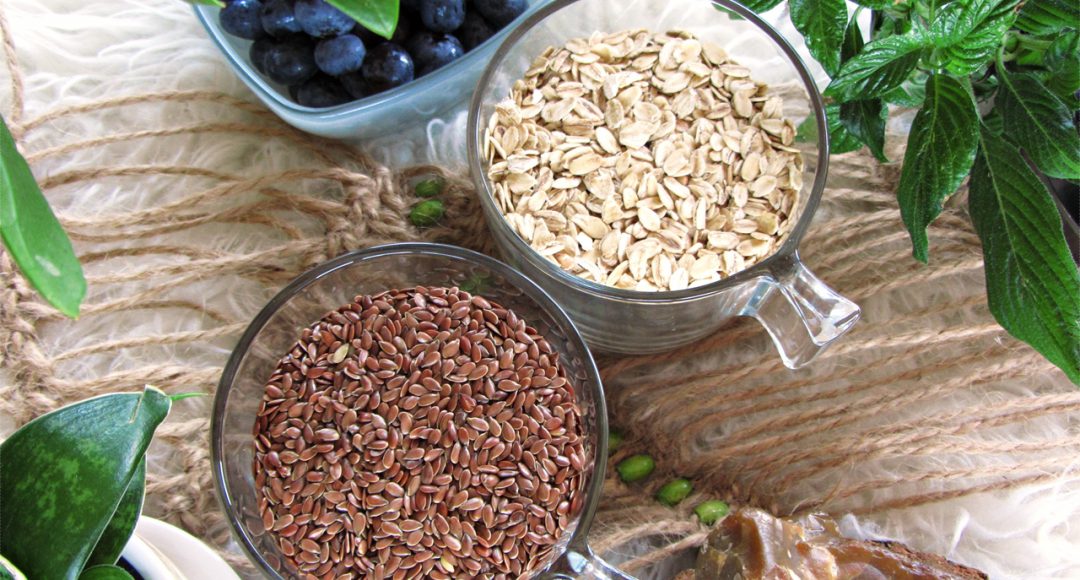 Hello Girls!
I am sure that every one of you knows that flax seeds are very healthy and is considered one of the superfoods which means that it's a part of a healthy diet and the foundation for a healthy lifestyle. However, did you know that flaxseed is also a great cosmetic that will work wonder not just for the hair but is also suitable for the care of your entire body? If you want to learn more about the wonderful properties of flax seeds – just go ahead, and read today's post. 
Flaxseed – composition and cosmetic properties 
Flaxseed is a wealth of amino acids, and these are a part of the hair structure – this way, the flax gel for hair is so popular and loved by all hair lovers. This is not the end of course, because flax contains a number of vitamins B (especially B1 and B6) valuable for hair and skin, vitamin E, magnesium, calcium, iron, and zinc. Flax seeds – like most seeds – also abound in a high concentration of good fatty acids (mainly omega-3, omega-6, and omega-9), invaluable in maintaining a nice skin and a healthy body.
Flaxseed gel, which is obtained from soaked flax seeds is an excellent cosmetic that can be successfully applied to the face in the form of a face mask or serum, or as a hair nourishing and conditioning gel. Flaxseed nourishes, accelerates wound healing and any skin changes, nourishes the skin, strengthens hair, polishes it and prevents damage.\
Flaxseed gel in cosmetics – purposes
Flaxseed can be used in an infinite number of ways. The most popular method is applying the gel to the hair (either dry or wet) in order to protect it from damage and enhance its shine. It is said that nothing makes the hair as shiny as flaxseed, therefore, it is considered a natural hair laminate.
What is more, flaxseed can be combined with oils, can be rubbed all over the body, hands, feet (it's a good idea to leave it overnight in the form of a mask to help get rid of rough skin of the foot). Flaxseed gel is perfect when combined with honey, aloe juice, natural yogurt – it works like a hair mask. However, if you mix it with warm milk and lemon, it will be a great remedy for damaged nails and dry skin of your hands.
In general, flax regenerates, brings relief, moisturizes and improves the condition of the hair and scalp. Its effects (especially on the hair) are visible right after the first use. Most treatments and masks do not give instant results, while flaxseed gel makes the hair super shiny at the first use.
DIY: flaxseed oil in comsetics – recipes for homemade cosmetics 
Before we proceed to particular cosmetics, first of all, take a look at this basic flaxseed gel. It can be used on its own for the hair or combined with other products.
Flaxseed gel for the hair
Pour 100 ml of water over a spoonful of flaxseeds. Bring to boil, leave aside and strain while it is still warm (when the gel cools down it is harder to strain the grains).
You can keep this gel in the fridge for up to 5 days.
A flaxseed infusion
It also has the consistency of a gel, but it's a bit more watery. It's "made" faster: just pour a glass of boiled water over a tablespoon of seeds. It is ideal as a face toner, hair rinse, foot bath or hand bath.
These two "base" recipes will help you to make a whole range of other natural cosmetics with flaxseed.
Flaxseed – the best, proven, reliable homemade cosmetics with flax
1. Hair mask with flaxseed 
The simplest cosmetic in the world: apply the flaxseed gel to your hair, wrap it with a hairdressing cap and leave it for about 30 minutes. To strengthen its nutritional effect – mix the gel with a little natural oil, or a good blend of natural oils. You can leave the gel in the hair for up to several hours, if of course, you have the time for it. Then rinse and wash your hair thoroughly. You will see that it will become soft, moisturized and will shine splendidly.
2. Hair rinse with flaxseed
Combine flaxseed gel with the infusion of nettles or chamomile. We pour the rinse over the hair during the last rinse. The effect of smooth and silky to the touch hair guaranteed!
3. Serum for hair ends with flaxseed
Flaxseed gel can be successfully applied daily to dry ends of hair to protect them from damage. Such a natural hair end serum will take care of them properly and make the strands tamed, smoothed and prevent frizziness. The gel can be combined with natural oil to nourish and protect the tips even more.
4. Flaxseed in the form of facial toner
Dilute the flax gel with a little water, herbal infusion (eg chamomile), or a selected face hydrolyzate (eg rose). You will get an excellent toner, which greatly cares for the skin, because it does not dry out and does not evaporate so quickly from the epidermis. This toner ensures the elasticity of the skin, moisturizes it, makes it more flexible and soothes all irritations.
You can store the toner in the refrigerator for up to 7 days.
5. Flaxseed gel for the body, hands, and feet
Did you know that the seeds that remain from straining flax gel are also an excellent cosmetic? Mix them with a bit of aloe gel and use as a scrub for the body, hands or feet. Instead of aloe, you can use thick natural yogurt and combine it with honey or a bit of shea butter. Such a scrub is gentle to the skin and at the same time, it perfectly removes dead skin cells.